The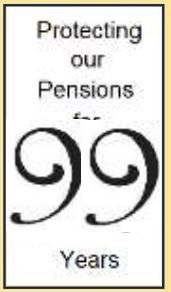 RETIRED TEACHERS ASSOCIATION
of Chicago

Would you devote a couple of hours a year to SAVING YOUR PENSION?
(

That danger is a lot more real than you think!!

)

CONSIDER JOINING RTAC'S

E-mail Alert Network

. They're the people who watch the circumstances of retired Chicago public school teachers. Their aim is to preserve and enhance our existing benefits. Because our conditions are largely determined by legislators, both state and national, RTAC monitors the Illinois General Assembly and the U. S. Congress for proposed actions that concern us. RTAC Alert Network members have promised that when asked, they will contact their own legislators, by telephone, email or letter, on behalf of retired Chicago teachers.
This will not happen more than 12 times per year
. (PLEASE NOTE that because the Illinois General Assembly does most of its business in the spring or mid-fall, these contacts are
not
likely to be evenly spaced over time.)
Read recent Alerts at
RTACAlertNetwork
.
To join the E-mail Alert Network:
e-mail your name, e-mail address and zip code to :
rtac-webster@outlook.com


WHEN YOU ARE CALLED UPON:

Your call to action will (a) summarize the effects of the legislation being considered, (b) indicate what RTAC recommends and why, and (c) suggest one or two ways to phrase your request. Please do NOT feel limited by these suggestions; your own words usually strengthen your case.
One strong caution:
NEVER dictate to or threaten your legislator! We are asking for their help; we are in no position to demand it.
HOW SHOULD YOU PREPARE?
Go on line to VoteIllinois (or call 1-888-868-3762) and find out the names, addresses, telephone numbers, etc, of:
AND THEN WHAT?
When you get your first call to action, PLEASE RESPOND IMMEDIATELY. A whole bunch of communications arriving all at once attracts a lot more attention than a bunch of straggly ones drifting in at leisure.
YOU WILL BE PART OF RTAC'S VANGUARD
The first line of defense against attack on CPS retirees. At present they are a tiny fraction of the more than 22,000 CPS retirees, but their efforts are beginning to command a lot of attention!
JOIN US!
Back
to the RTAC Home page.