Marion Hoffing
Director Emeritus and RTAC Armstrong Award Winner
The RTAC Officers, Directors and Past Presidents are sad to report the passing of former RTAC Director Marion Hoffing, on Sunday, April 12, 2020, just two days prior to what would have been her 105th birthday. At RTACís 90th Anniversary Spring Luncheon held May 20, 2016, Mrs. Hoffing was acknowledged for her special service to RTAC with the Armstrong Award. During her lengthy service as a RTAC Director, Mrs. Hoffing served on the RTAC Social Committee where she secured raffle prizes and assisted with a variety of the tasks to ensure the success of RTACís semi-annual luncheons. She also was a dedicated member of the RTAC Service Committee which prepares the monthly birthday cards and holiday greetings sent to our senior members age 85 and above. RTAC extends its sincere condolences to Mrs. Hoffingís family, friends, and former colleagues. May her memory serve as a blessing for all.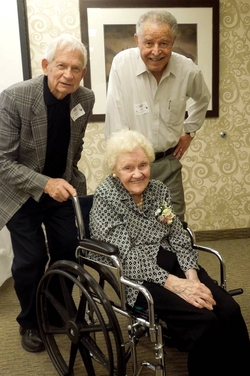 RTAC Past Presidents Ned McCray and
Zygmunt Sokolnicki with
Director Emeritus Marion Hoffing
on her 100th birthday in 2015.